In yesteryears many excellent lenses were made for camera's of all shapes and sizes. And in those years many of those camera brands used even more lens mounts. No with adapters you can fit almost every lens to almst every camera so these lenses can be of use again other than collecting… These are some of the most impressive and affordable ones..
1. 58mm f/1.4 Auto-Topcor
Introduced in 1963 by Tokyo Optical Co. for its Topcon SLRs, this 7-element, 5-group modified Planar design is considered to be one of the best high-speed normal lenses of its era. It's sharp wide open and takes beautiful pictures. The 6-bladed diaphragm does tend to produce artifacts in out-of-focus image areas, but it has beautiful bokeh at f/2 and focuses down to about 18 inches for impressive close-ups.
image:
The slightly longer than normal focal length is excellent for portraiture, and provides a 1:1 viewing image in the Topcon's pentaprism viewfinder. The lens will also work, albeit less conveniently, on old Exakta 35mm SLRs.
Price range: $150-350
2. 85mm f/1.8 Super Multi Coated (SMC) Takumar
This M-42 mount (also known as Pentax screw mount) lens is a truly outstanding medium telephoto, a superb portrait lens, and an excellent all-around shooter. The original non-SMC 5-element, 4-group version is OK too, but the 6-element, 6-group version from the '70s that's marked Super Multi Coated or SMC on the lens ring is the one to have.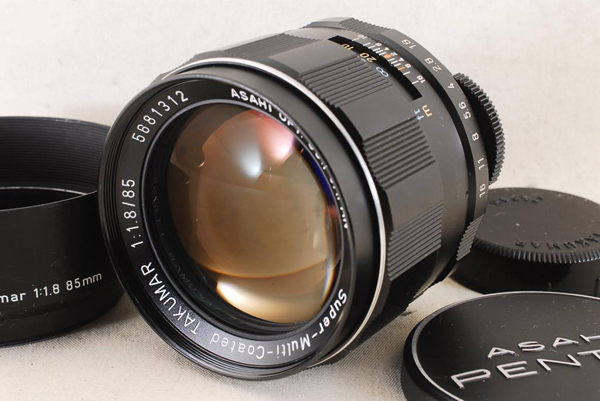 it's sharp even wide open, has superb color rendition, and creamy smooth bokeh—which is why so many who own it, including me, include it on their short list of great vintage lenses.
3. 105mm f/2.5 Nikkor-P
Nikon's classic 5-element, 3-group 105mm was first released in Nikon F mount along with the landmark Nikon F in 1959, but its roots go back even farther to the legendary Nikon rangefinder and Leica screw-mount versions of the mid 50s that were prized by photographers of the day and are now prized collector's items.
Whichever configuration you choose, Nikon's 105mm f/2.5 is one of the greatest portrait lenses ever, and delivers awesome performance in a robust, durable package. It is sharp wide open, has good contrast, and beautiful bokeh. The original one can be made to AI with a very simple modification as described on this webpage of this man
Price range: In F-mount, $100-250, In Nikon rangefinder S-mount, $200-$500